PREVIOUSLY AT FRIISLAND
PREVIOUS EVENTS: TWO FOOLS IN A SINKING BOAT|8HZ |FRIISLAND LIVE #6 |FRIISLAND LIVE #5 | THE FINISH LINE |GÈLÈDÈ |FRIISLAND LIVE #4 |725 PERFORMANCE | FRIISLAND LIVE #3 |YULEPARTY | PERFORMANCE/TEXTILE | ANTI-KULTURNAT | THE IGNORANT GAMESMASTER| 50 DANGEROUS THINGS. THE ANNIVERSARY| TOYS OF JOYLESSNESS or DISTURBANCE & DEBILITY| THE CUT-OFF FREQUENCY OF THINKING| FRIISLAND OPENING|
HESSELHOLDT & MEJLVANG (DK) – TWO FOOLS IN A SINKING BOAT
Two Fools in a Sinking Boat was a performance in Virtual Reality that could be experienced at the Friisland from November 11th to December 16th 2022. Guests could wear VR goggles and experience the two fools up close – in an alternative reality –
In Two Fools in a Sinking Boat, two fools circle in rhymes and stanzas about the state of the earth on the brink of disaster. About the sea and the sun, which the climate crisis has turned into threats. They yearn for the past and look forward with trepidation and optimism. They call for battle and for truce, for community and action. They ramble and contradict themselves non-stop. They laugh, sing and joke, but behind the funny mask lurks melancholy, despair and fear.
Hesselholdt & Mejlvang are an artist duo that have collaborated since 1999 around large and site-specific installations that explore collective identities and national affiliations. The works often involve performativity and explorations of public space.
Photos, VR recording and editing: David Sebastian Lopez Restrepo
SVEND SØMOD (DK): 8 HZ – BRAINWAVE MANIPULATION
September-December 2022: Svend Sømods "8 Hz: Brainwave Manipulation" simulates the state of the brain during deep meditation with a series of flashes at the frequency of 8 Hz. Wearing VR goggles, guests were able to achieve instant meditation!
Throughout his practice, Svend Sømod investigates the interaction between senses, the universal validity of mathematics and the reality of the brain. Has experimented with cocktail printers, music, light installations, furniture making, VR and more.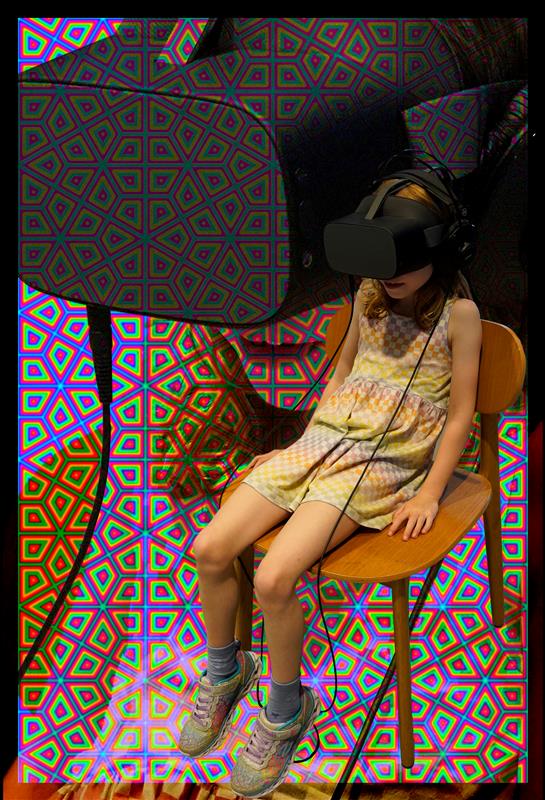 FRIISLAND LIVE#6: SVEND SØMOD, MARIE THAMS & DANI PLOEGER (NL/DE)
In this FRIISLAND LIVE we focused on the human body in a high tech world… SVEND SØMOD (DK) presented his new VR work "8 Hz" and he had also brought special cocktails.
Then MARIE THAMS (DK) performed her work "aaarena". The work deals with questions around the body as an arena and tool in the accelerated and norm-setting working life (see video).
And DANI PLOEGER (NL/DE) presented his practice, which explores situations of conflict and crisis on the fringes of the world of high-tech consumerism. His work is informed by field research on the use of everyday technologies under extraordinary circumstances (see video).
Supported by Statens Kunstfond. Dani Ploeger is invited by Burmester & Wium.
FRIISLAND LIVE#5: JELILI ATIKU, FLORIAN FEIGL, ULLA HVEJSEL
FRIISLAND LIVE – a blast of a night!
Three amazing international performance artists performed live on the 9th of September 2022. Jelili Atiku presented his practice concerned with climate and human rights (see video). Florian Feigl performed a work from his 300 series (300 performances of each 300 seconds) (see video), and Ulla Hvejsel shared her newest insights in a "trickle down" economy, where shit is the new gold (see video).
Jelili Atiku is a Nigerian multimedia artist with political concerns for human rights His artistic work deals with the psychosocial and emotional effects of traumatic events such as war, violence, poverty, corruption, climate change.
https://jeliliatiku.webs.com/
Florian Feigl is based in Berlin. He works internationally. His practice investigates performance art as an art form, its themes, times and spaces, as well as referring to numerous other artists.
https://www.florianfeigl.com/
Ulla Hvejsel is from Copenhagen. Her humorous practice is concerned with society and politics which she elegantly satirizes in talks and performances together with her audience.
https://realpolitik.dk
DAVID SEBASTIAN LOPEZ RESTREPO – THE FINISH LINE.
David Sebastian Lopez Restrepo is a Colombian performance artist based in Copenhagen. His work is based on the interaction between the audience and the artist in the construction of the performance as a shared experience. Everyday life actions such as making food or cycling make part of his artistic practice.From August 12th to 27th 2022 David Sebastian Lopez Restrepo (COL) presented the exhibition and performance: "The Finish Line – Wolt Migrant"
The Finish Line was the ending of a durational performance, the "Wolt migrant project". Here Sebastian got a job through smartphone apps to deliver food in the city of Copenhagen. He pedaled 9400 kilometers, which the linear distance between Denmark and his home country Colombia. The Finish Line – Wolt Migrant" is both a metaphorical and political project. It navigates between the nostalgia of going back home or integrate himself to a new society and making a critic or a commentary about low-income jobs and precarious conditions of work in migrant or artistic environments.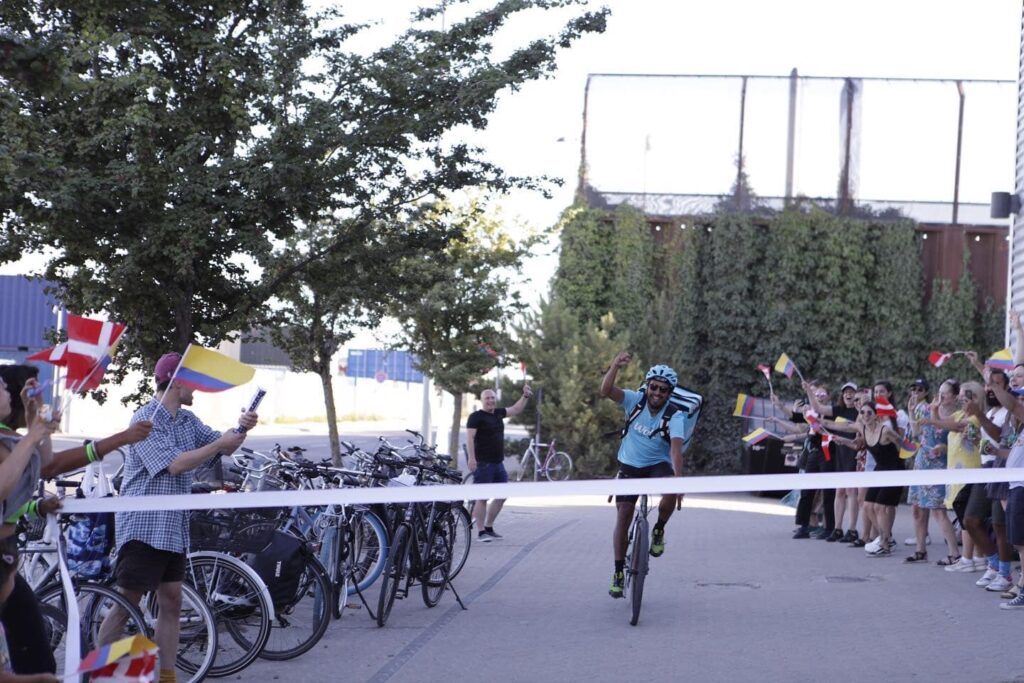 FRIISLAND LIVE#4: TAIWO AIYEDOGBON, MARGARET DRAGU, MADELEINE ANDERSSON
Margaret Dragu (CA) celebrated her 50th year of performative practice with "The New Akademy of Life and Performance Aktions" – an interactive performance landscape together with B&W Art and Support (see video). Madeleine Andersson (SE/DK) presented her project "Petrosexuality"; an investigation into how current systems of fossil fuel combustion is upheld and validated by western culture and its heterosexual socialisation. Taiwo Aiyedogbon (NG) presented "Asiweju" – a yoruba ritual for powerful leaders, which is reinterpreted to address women in a modern society.
TAIWO AIYEDOGBON – GÈLÈDÈ
Taiwo Aiyedogbon (Nigeria)the department of Fine Art (Sculpture).Yaba College of Technology, Lagos, Nigeria in 2017. Her work for Friisland was "Gèlèdè"; a site-specific VR performance telling a story of a popular Yoruba ceremonial masquerade.
MIAO JIAXIN – 725 PERFORMANCE
Miao Jiaxin was born in Shanghai and emigrated to New York City. Miao's works often express the ambivalent and sometimes antagonistic tension that always exists between the individual and governing or cultural authorities, questioning assumptions about power in relation to identity politics. In Friisland he presented his "725 PERFORMANCE" i VR (see video).
Friisland live #3: Miao Jiaxin (US), Kristoffer Ørum (DK), and David Sebastian Lopez Restrepo (CO/DK).
March 12th 2022: Live event with works by Miao Jiaxin (US), Kristoffer Ørum (DK), and David Sebastian Lopez Restrepo (CO/DK).
The 4th performance night with live works and a dialogue with the audience. The evening also marked the opening of the new exhibition with an installation and a VR performance by Miao Jiaxin until May 6th. The programme was: Miao Jiaxin (US): A German Aufguss Sauna Ritual performed by a Chinese from the US. Kristoffer Ørum (DK) A Human Pretending To Be An Artist Pretending To Be A Crayfish. David Sebastian Lopez Restrepo (CO/DK): Halfway from Denmark to Colombia on a metaphorical bike journey.
Friisland live #2: Friisland Yuleparty (December 3rd)
On 3rd of December 2021 we held our Yuleparty. The program was a finissage of the exhibition Performance/Textiles and contained live talks and performances by the artists Francis Patrick Brady (IR/CA/UK/SE) and Sif Hedegaard (DK), as well as "B" – a VR-opera- installation by Essi Kausalainen (FI)
We also presented our artist in residence, Adam James (UK/SE) who is working with augmented reality and live action role play. And xmas treats from the artists´ respective countries were served.
Performance/Textile (November 4th-December 3rd 2021)
For Friisland's second exhibition we have selected three artists who work with textiles and performance. The exhibition is a collection of three projects that combine fabrics and performance.
Essi Kausalainen is one of Finlands most exciting performance artists. She often investigates the exchange of energies between beings. Essi has created a site-specific opera performance for VR. The opera is called "B" and is performed by soprano Katinka Frida Bohse Meyer (DK), performance artist Laura Cemin (ITA) and actor/singer Yuko Takeda (JPN).
Francis Patrick Brady's work "The Ignorant Gamesmaster" was created during a recidency at Copenhagen Contemporary and Friisland in October 2021. The gamesmaster is like Jacques Rancières "Schoolmaster" in an all-knowing position. But what happens with the game if he or she doesn't know the rules? The game is played on a textile board created for this work. Also, the textiles that the gamesmaster is wearing is an essential component of this work (or non-game).
Sif Hedegaard is a Danish artist from Det Fynske Kunstakademi. She performed at Friisland on October 15th with the work "Out of Body Garment". Here she wore modified clothing objects. The objects from the performance were left as an exhibit and altered and manipulated at her final performance work at finissage, December 3rd 2021.
Performanceopera "B" by Essi Kausalainen (FI) was supported by FRAME, Findland & Gusaf Packelens mindefond
Friisland live #1: Anti-Culturenight! (October 15th 2021). Perfomance night with works by Essi Kausalainen (F), Sif Hedegård (DK) og Francis Patrick Brady (UK/SE)
The Anti-kulturnat was the 2nd performance night at Friisland, and also marked the opening of the new exhibition with an installation and a VR performance by Essi Kausalainen. We had pies and wine, and enjoyed an evening with the following program:
Sif Hedegård (DK) performed with "Out Of Body Garment" with modified clothing objects.
Francis Patrick Brady (UK) performed with the DOHL game – a worldbuilding and discussion based card game. The DOHL cards are a roleplaying tool that will give the guests a new job and profession in a fictional future society.
Essi Kausalainen (FI) presented a performanceopera for 3 voices called "B". The performance was commissioned by Friisland as an installation with VR performance. This was a live version which also included a 4th voice performed by a child.
Local soprano: Katinka Frida Bohse Meyer (DK)
Performance Artist: Laura Cemin (ITA)
Actor/Singer: Yuko Takeda (JPN)
Child: Ava Leth (DK)
Performanceopera "B" by Essi Kausalainen (FI) was supported by FRAME, Findland & Gusaf Packelens mindefond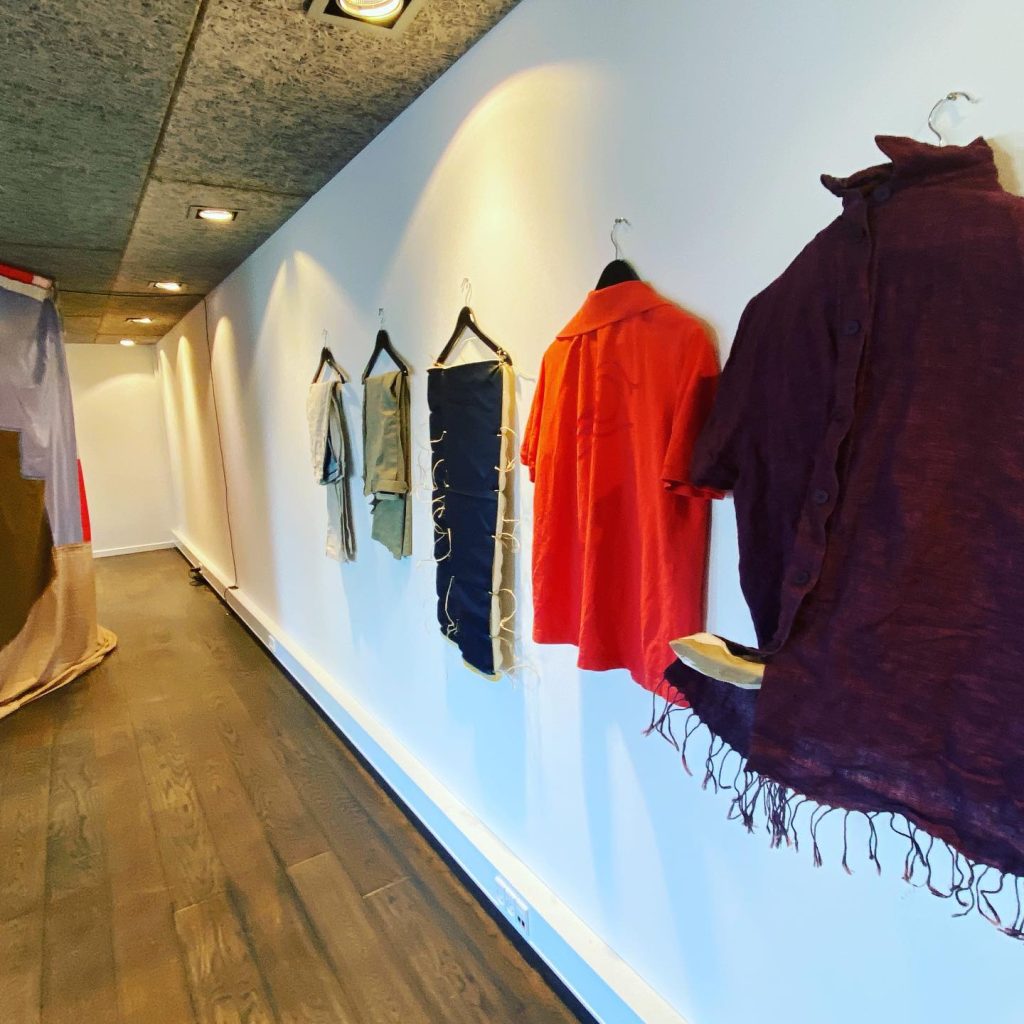 THE IGNORANT GAMESMASTER: Live game/ performance by Francis Patrick Brady (October 1st 2021)
"But now the gamesmaster opens his mouth to explain the game. He makes a series of reasonings in order to explain the series of reasonings that constitute the game. But why should the game need such help?"
The Ignorant Gamesmaster is a new performance game created by Francis Patrick Brady, who explores crossovers between art, games and performance. He is educated at Kunsthögskolan i Malmö i 2007 and was in a residency at Friisland in collaboration with Copenhagen Contemporary.
The performance could be experienced during the Copenhagen Art Week, October 1st-3rd 2021.
50 Farlige ting alle børn bør prøve (50 Dangerous Things). The anniversary (10th October 2021)
October 10th 2021, we were celebrating the 5th anniversary of the performance "50 Farlige ting, alle børn bør prøve (50 Dangerous Things). We have been touring all over Denmark and this was the 152nd performance. It is a remarkable success, and we celebrated this by presenting a version at Friisland with free entrance.
The performance is based on the book 50 Dangerous Things by Julie Spiegler og Gever Tulley, and it was originally created by Forschungstheater/ Fundustheater in Hamburg. Live Art Danmark has the Danish rights and performers Henrik Vestergaard og Daniel Norback have adapted and reinterpreted the performance in collaboration with Ellen Friis.
Otmar Wagners VR performance "TOYS OF JOYLESSNESS or DISTURBANCE & DEBILITY" (September 10th – October 3rd 2021)
Sience the 90es, Vienna based artist Otmar Wagner has investigated Europe as a construct; a political, cultural, and physical body. A place divided by walls, penetrated by circuits and political diseases. Wagner sets up a room as a living body where energies flow, and similar to a physical body, the materials are animated and transformed in circulatory systems.
Friisland was transformed into an installation for 3 weeks, where visitors could wear VR headsets and experience Wagners performing within the installation. One guest at a time.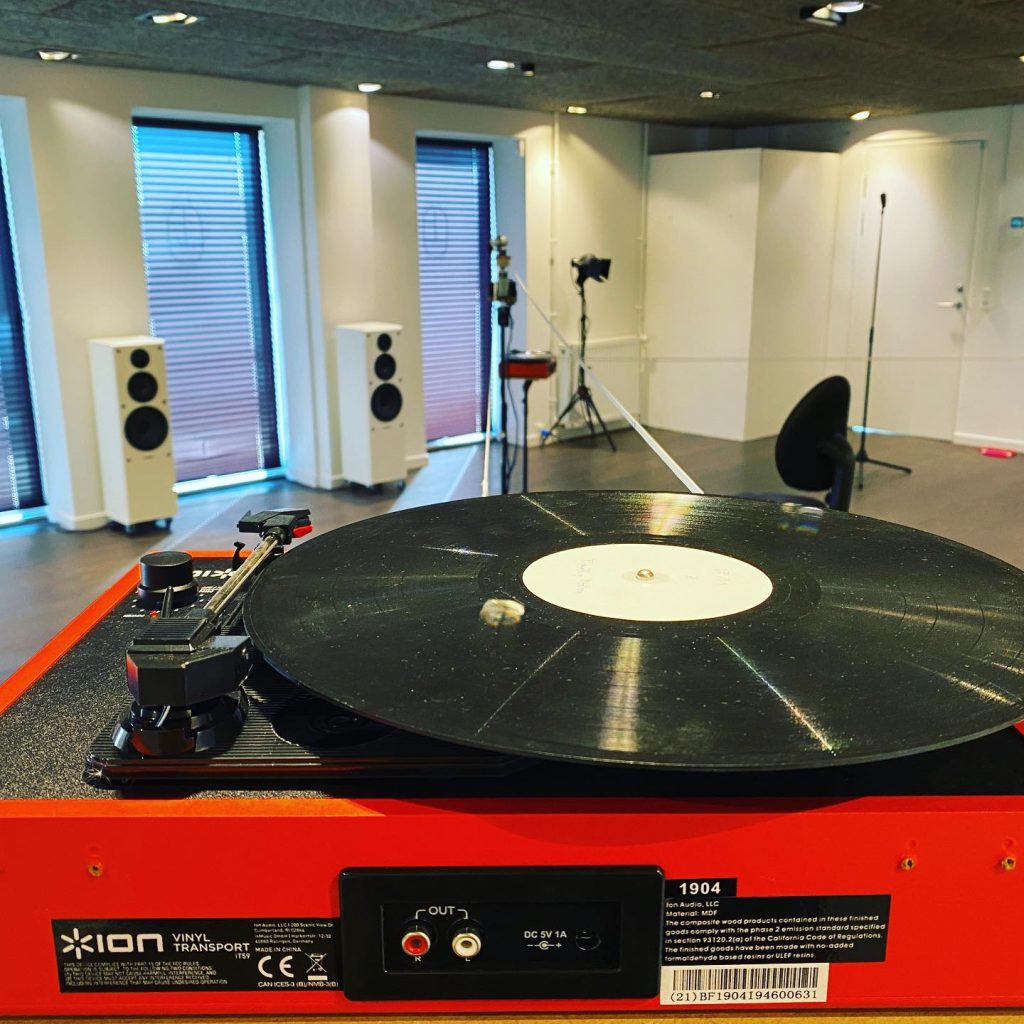 Otmar Wagner: The cut-off frequency of thinking – about my work (august 23rd 2021).
CURRICULUM, the public school of performance art held its 7th lecture with a living archive of the performance art history – followed by drinks and hanging-out. The lecture presented the spectrum of Otmar Wagner's artistic works ranging from essay performances and concert performances to performative installations and radio plays. In his lecture, he provided insights into his performative work and the artistic strategies that underlie it. Wagner took the audience on a 'delirious association trip', as he does in many of his performances.
Otmar Wagner is a Vienna-based performance artist working between fine arts and performing arts. He is educated from Applied Theatre Studies in Giessen and Objekttheater in Amsterdam. He teaches Performance Theory at the University of Arts in Graz, Austria.
CURRICULUM is the public school of performance art: a lecture program curated by Cecilie Ullerup Schmidt in collaboration with Theatre- and Performance Studies. CURRICULUM is supported by Bikubenfonden, the Danish Arts Council and the Austrian Embassy.
Friisland Opening (August 21st 2021. A performance night with Otmar Wagner, David Sebastian Lopez Restrepo and Goodiepal
Friisland Opening was the 1st performance night at Friisland. It marked the opening of Friisland and the the first exhibition with a installation and VR performance by Otmar Wagner. We enjoyed an evening with flammkuchen, nice cider from our neighbors – and the following program:
Otmar Wagner (AT) presented "TOYS OF JOYLESSNESS or DISTURBANCE & DEBILITY. The performance was comisioned by Friisland as the VR-performance installation. This was a live and extended version.
David Sebastian Lopez Restrepo (CO) presented the performance "HOT TUB". A participatory performance where a hot tub was the centre of discussions about art, philosophy and politics.
Goodiepal (DK) presented a manifest for intergenerational art.